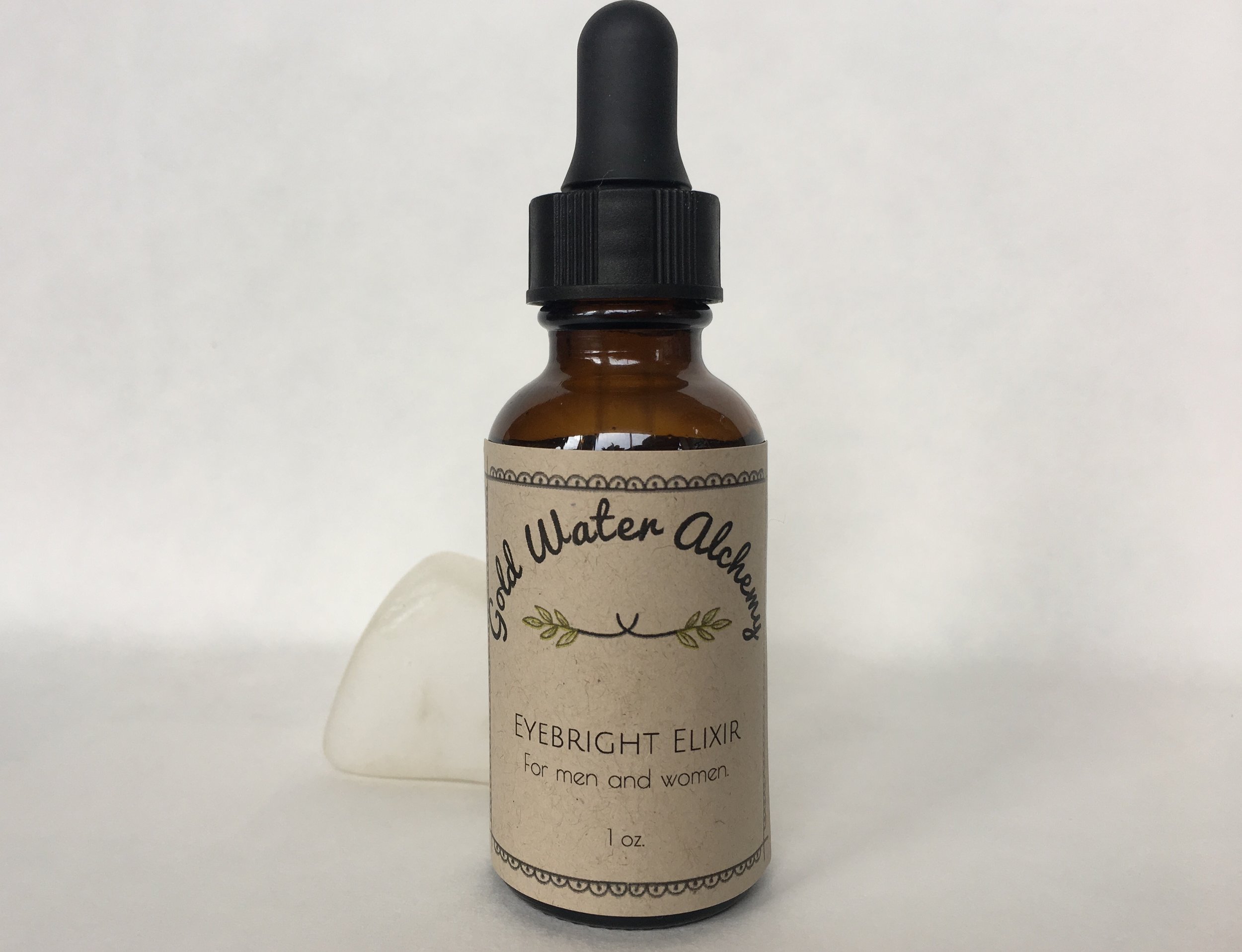 Eyebright Elixir
DETOXIFYING
Often used in Gold Water's rituals and ceremonies, this elixir is an extremely powerful botanical blend with much to teach in stillness and through dreams. Eye Bright brings a soothing to our being by providing mental clarity, visual acuity, and cellular rejuvenation. Gingko, one of the main components of this medicine, is a tremendously fascinating herb. Rich in history and benefits, it is brain food with high magickal energy. Gingko is considered an elder in the plant realm, and her magick is often used in longevity concoctions. Because of Eye Bright's innumerable benefits on inner and outer sight, we use this one in ritual and during shamanic journeys so that we may pierce the veil and perceive the truths that our natural allies are bringing forth. Deeply infused with ancestral energy, Eye Bright brings soul awakening through inner remembrance and contact with various forms of existence. It is also beneficial for protection against cancer cells and to reduce the attack from such. This formula strengthens the heart, all the while improving cognitive function and aiding us in tuning into our various forms of seeing. (All elixirs come with a tamper-evident seal.)
Invitations for use in ritual: Sitting calmly in your sacred space, hold your bottle of Eye Bright to your heart. Allow stillness and love to settle in. Breathe with the medicine, feel the life that moves through her essence as one with what moves through you. Breathe deeper and deeper, gently inviting her essence to combine more profoundly with your own. Once you feel ready, take a few drops of the elixir under the tongue and you may also rub some on your 3rd (1st) eye center, as well as your heart, and sacral/belly button. Continue throughout your day with that level of presence and communion, celebrating life in all its forms.
ingredients:
*gingko, *gotu kola, *bilberry, *eyebright, *horsetail, *calendula, sapphire gem essence
invitations for use:
Add 7 drops to a cup of water or tea, or taken directly under the tongue, before bed. These guidelines are not definitive, meaning you can use according to your intuition, at any dosage up to 15 drops. Shake well before use.
(Each purchase comes with herbal information cards, detailing stories and facts regarding your medicine.)
Not recommended for pregnant or nursing women.
Safe for children ages 10+, at half the dosage.
*certified organic ingredient
sold out