Key 2: The High Priestess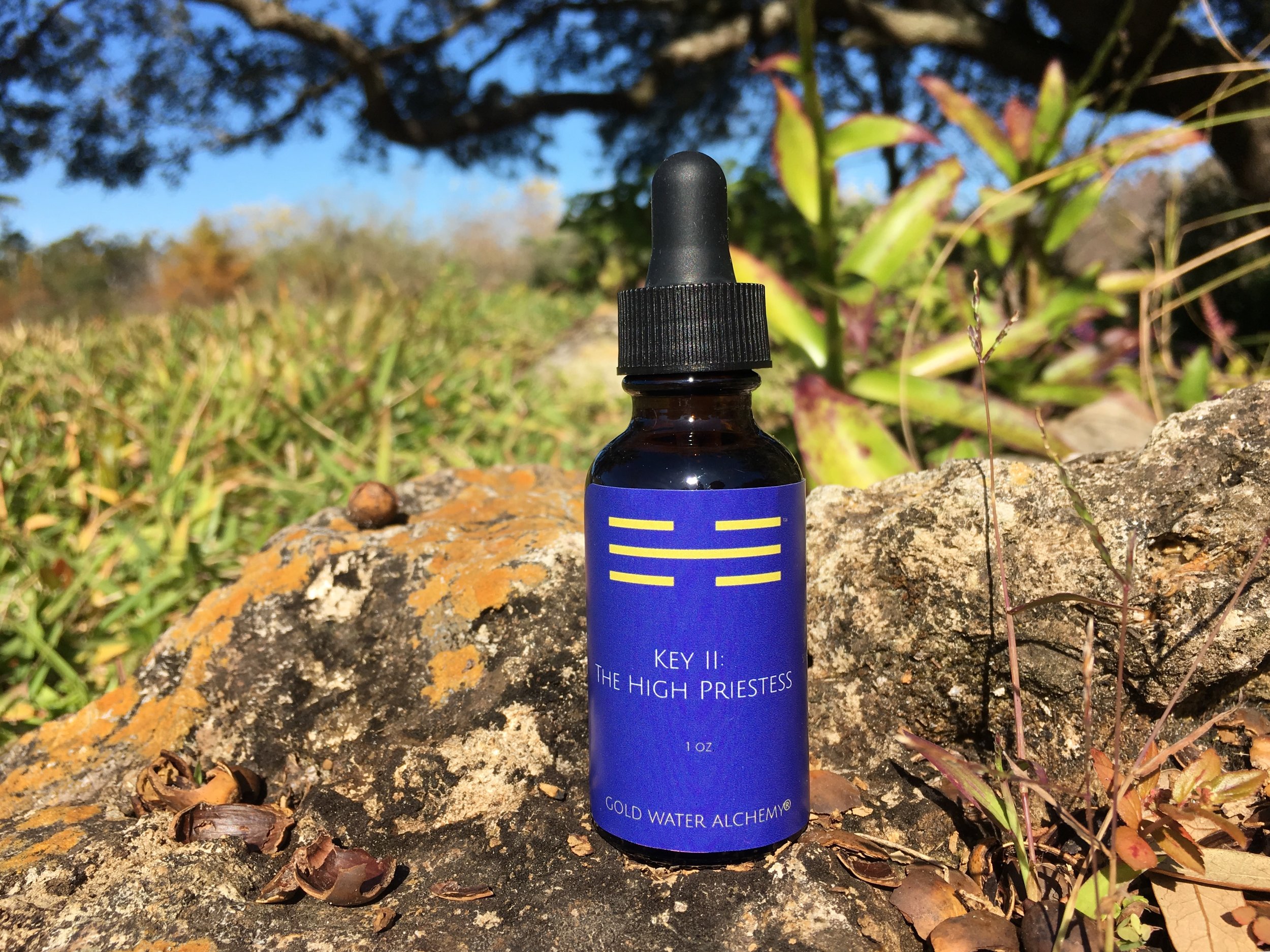 Key 2: The High Priestess
symbol:
The Moon
keynote:
Universal Science
elements:
water + earth
uses:
revitalize chi; increase mental stamina; relieve physical/psychological/emotional tension; promote healthy rest; enhance dreamtime; strengthen telepathic abilities; provide access to personal genetic codes that awaken latent talents
the story:
The High Priestess holds the key to all the doors which follow the initial entry into True Self. With this Priestess as the guide upon this journey, we can rest assured that we will be moving with the truth. In tarot, the appearance of the High Priestess is one that signifies the need for entering into silent retreat for the purpose of extracting truths contained only within this space. Key II is crafted with the intention to enhance meditative states, while enabling a focus of mind that facilitates ceremonious activity and mundane ritual alike. Damiana, Skullcap, Valerian, and Kava Kava work synergistically to tone the nervous system, all the while heightening our psychic capacity. Damiana is particularly useful for sharpening our discipline and allowing us to move through cognitive tasks with less resistance; this powerful plant has also been known to treat digestive upsets and relax and stomach + intestinal muscles. Skullcap is an effective herb for those who tend to hold a lot of tension in the neck and shoulder area due to being very high-strung or overwhelmingly perfectionist in their ways. Valerian promotes rest and, combined with Kava Kava, fortifies our dreamtime - bringing more color to our vision and enabling greater dream recall; Kava Kava is also used ceremoniously in the Pacific Islands, as it is known to exalt energies of euphoria and bliss. The High Priestess is the Mother of the Indigo, whose acute perception and ability to engage all of her senses simultaneously provides a perfect template for this work of unlocking the inner doors.
combines well with:
ingredients:
damiana leaves, skullcap leaves, valerian root, kava kava, gluten-free alcohol, food-grade vegetable glycerin, spring water, selenite + labradorite gem essence
invitations for use:
We recommend adding 22 drops to 2 oz. of water or tea, or taken directly under the tongue, before bed or in between lunch and dinner. These guidelines are not definitive, meaning you can use according to your intuition, at any dosage up to 30 drops and at any time of day. Shake well before use. Store in a cool, dark place. Shelf life varies, usually lasts up to one year.
(Each purchase comes with herbal information cards, detailing stories and facts regarding your medicine; keeps well for 1 year.)
Avoid use if pregnant or breastfeeding.
Safe for ages 15+.

All herbs used are certified organic + 95% are sustainably wild-harvested by Gold Water Alchemy.

REQUIRED DISCLAIMER: This product is for bringing balance; it is not intended to diagnose or cure disease. If you require medical treatment, please seek a qualified medical professional. These statements have not been approved by the FDA.
sold out